Hydraulic Foam Machine For Sponge
Brand : QUANXING MACHINE
Product origin : JINJIANG,CHINA
Delivery time : 60 days
Supply capacity : 10PCS/month
Semi auto EVA Sponge auto-foaming machine Production Information of High quality EVA Hydraulic Foaming Press machine manufacturer EVA or PVA foaming palte or beach shoes.
Quanxin Machinery(Huaju Technology) Co.,Ltd



(Jinjiang Economic and Technological Development Zone, Fujian, China)


Production Information of High quality EVA Hydraulic Foaming Press machine manufacturer

Shipping & Payment

TT /LC /Cash :30% deposit before the work, 70% before the shippment .

Features of the EVA Hydraulic Foaming Press machine manufacturer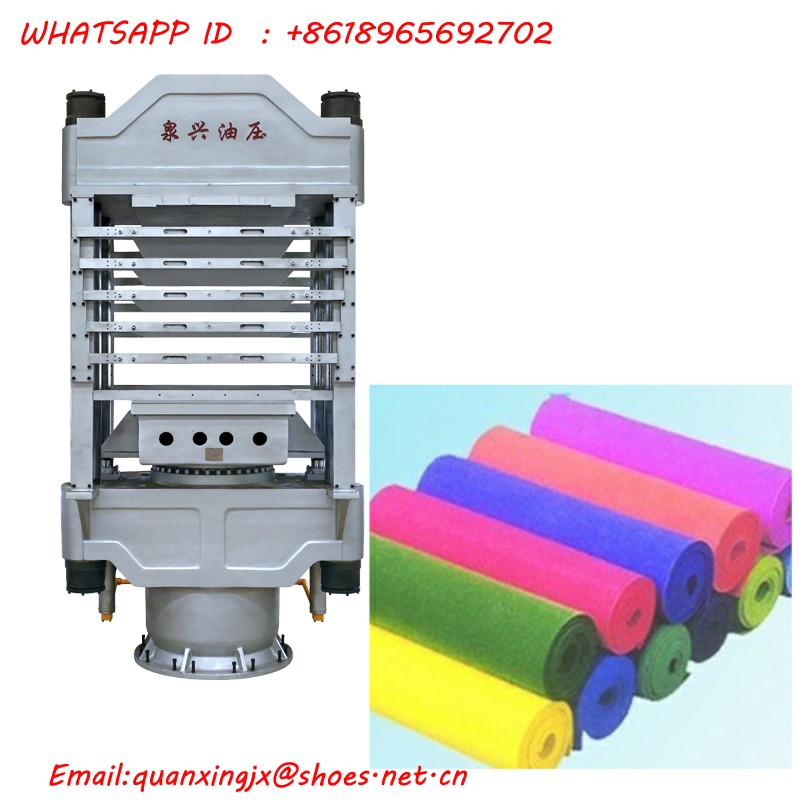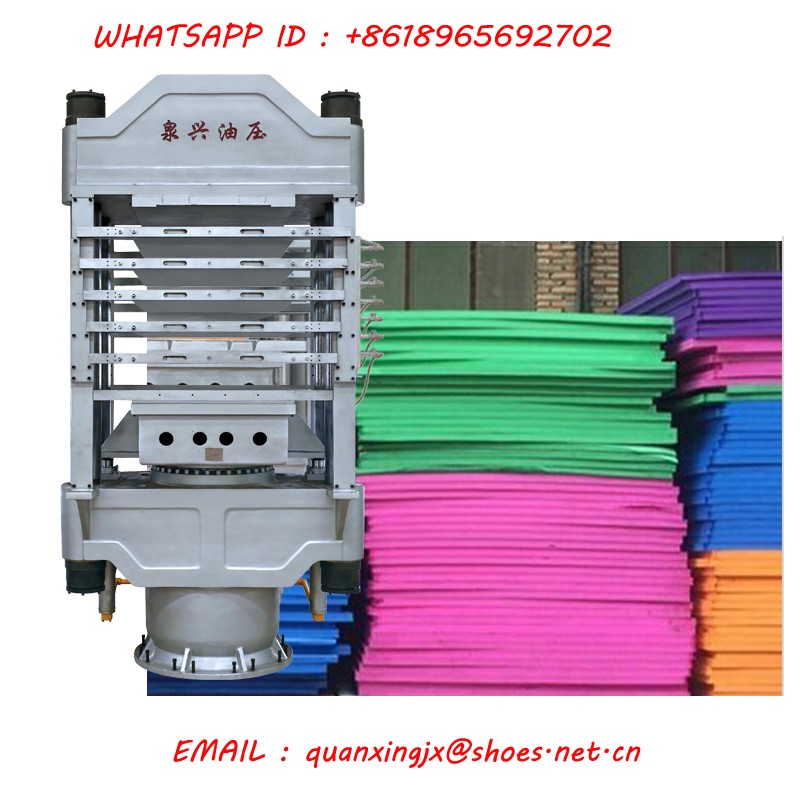 | Model | Unit | Ruber-2S | Rubber -4S | Rubber-6S | Rubber-8S |
| --- | --- | --- | --- | --- | --- |
| Work stations | station | 2 | 4 | 6 | 8 |
| Clamping Force | Tonnage | 180/150 | 180/150 | 180/150 | 180/150 |
| Mould space | mm² | 450*500 | 450*500 | 450*500 | 450*500 |
| Mould Height | mm | 50-160 | 50-160 | 50-160 | 50-160 |
| Dimeter of mould opening | mm | 200 | 200 | 200 | 200 |
| Calefaction manner | **** | steam,oil .electric | steam,oil .electric | steam,oil .electric | steam,oil .electric |
| total electricity | **** | 19 | 19 | 19 | 19 |
| Layer number | **** | 2 | 2 | 2 | 2 |
| oil tank size | L | 800 | 800 | 800 | 800 |
| Motor Power | HP | 20 | 20 | 20 | 20 |
| dimension L*W*H | M | 4*2.4*1.7 | 6.1*2.4*1.7 | 8.2*2.4*1.7 | 10.3*2.4*1.7 |
| machine weight | KG | 6000 | 8800 | 12500 | 15500 |

1. Wall beam composite frame structure ,strengthening design .good structural rigidity,small deformation.
2. The configuration of the rapid mold cylinder,clampingspeed,reduce auxiliary time.


3. Cutomatic servo energy savign control system,significantly reduce energy consumption.


4. The use of PC and plc controller ,run the program according to the requirements of the process set. each station can operate idependently ,non-interference in each other.



5. The hydraulic control logic circuit,compact system, piping,leakage is not easy to keep the pressure stable.


6. Emergency stop switch,emergency stop to protect the safety of personnel ,molds and products.


Footwear Machinery Company Show:
Our company always pays attention to the research and development market in the sector, and the development of most optimizing product plan in the market.
The CNC Processing Center introduced advanced machinery equipments from abroad to guarantee effectively the molds making with high quality and high efficiency.


Standard and complete processing system makes smooth flow. Experienced administration people with high quality and high efficiency assure the company affirmative high effect operation by modern management.


Ordering process:


1. Inquiry: You send inquiry to us about the product or design you want


2. R&D: The quality, mold & machine' life, cavity arrangement, price, quantity, material, design, delivery time, payment term, etc.


3. Quotation: Sales department offer quotation after Engineer checking.


4. Place an order with first payment: We send PI to you for conformation and Pay 30% deposit.


5. Machine design Confirmation: We design the machine,and could change some small parts according to the customer'special requirements.


6. Machine making: According customers request to design the machine, including 2D, 3D, CNC, Metal CNC, Adjusting pattern, Inspect the fitting, Finishing inspect, completed.


7. Sample making: We do the machines test according to market requirement and send the samples machine in the exibition all over the world for approval and welcome the customers come to our factory to inspect machines.


8. Balance Payment: The customers make the balance payment.


About Us:

We update products everyday.From our website,you could find that our styles meet the latest international pop trends. We are able to offer you various products at best

selling designs .most competitive price .top quality, timely delivery and best service .Our MOQ is 1 pair at any style. OEM & ODM are welcomed.Covering an area of 2800

square metres. Co.,Ltd is a specialized shoes moulds maker with the total investment of 50,000,000RMB .Now we have a well qualified staff of over300.Our company ushers in to have internationanl horizontal molding tool appropriation complete set equipments (Italian import optical 3D scanner) Our company has been spoken highly of by the shoe industry circles since it was founded .owing to its strong techinical force.excellent quality.stylish design. good reputation and perfect after-sale service .


Our Advantages :


1:We have many years experience of manufacturing some main kinds of shoe machines .

2:Sophisticated technology,advanced equipment,excellent workmanship and prompt delivery.

3: Professional and technology technician team for each project to ensure quick reponse to any problem.

4:A long established management system to ensure the demand on high quality control and low cost.

5:Professional personnel "know-how" to serve client's best interests: Mold runs dimensionally precise and high efficiency ,stably and easy maintenance .


6.Worldwide supplier chain aligned for specified stell.copper,standard components and techinolgies.



Contact Person :Abby Kim


Whatsapp/viber/imo/mobile ID /wechat / +8618965692702


Email: quanxingjx@shoes.net.cn

Technical parameters:

Model:QXEA-44
Mould clamping force:2000Tons
Mould space:1500mm*2400mm,1500mm*2000mm
Daylight between plates:200mm,180mm
Layer number:6 or 7
Open file:2000mm,2000mm.
Oil cylinder:Ф1020
Note:the size and color can be customized.
Usages:
1,EVA or PVA foaming palte or beach shoes.
2.Foam & sponge rubber sole.
3.Other industrial rubber products.
Features:
1,Automatic ascending ,bumping ,pressurization and descending operations.
2,High speed ascending,pressure retaining for better product quality.
3,Quick release valve for quick descending but incorporates adjustable speed.
4,Depressurization can be adjusted to suit thichness of products.
5,Special designed platens for even heating area.
6, The above features can be incorporated in. automatic and semi-Automatic machines.
Please feel free to give your inquiry in the form below.